Your ads will be inserted here by
Easy Plugin for AdSense.
Please go to the plugin admin page to
Paste your ad code OR
Suppress this ad slot.
PS4 Pro and PlayStation VR bundles get a big price cut for one week only
Missed out on a PS4 Pro bundle or a cheap PlayStation VR deal around Black Friday? We've got some great news for you then, as Sony has given both a massive discount for the next week. At these prices though, we wouldn't expect stock to last long.
PlayStation VR bundles are now $100 cheaper than the standard price and many of these bundles are cheaper than they were on Black Friday. The PS4 Pro can be picked up for $50 less than usual for either the standalone console, or the highly sought-after Star Wars: Battlefront 2 and Destiny 2 bundles.
Sony has pushed down these prices at the perfect time of year just as we hoped they would. The PS4 Pro is now a 4K console considerably cheaper than the new Xbox One X and PSVR units have been flying off shelves lately, pointing towards a strong future for what is arguably the most popular VR platform on the planet right now.
We don't expect to see prices this good again for a few months, so now's the time to strike if any of these items are on your wishlist. The discounts will end on December 16 or until stock lasts.
PlayStation VR bundles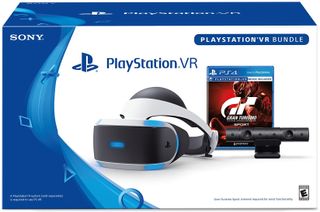 PlayStation VR | GT Sport | PS4 camera | $199 @ Amazon
GT Sport and PlayStation VR are a great match, especially if you're a fan of using the in-car viewpoint. How else are you going to enjoy those lovingly recreated interiors? We're stoked to see this PlayStation VR bundle deal include the camera too. Especially as you need it to get the PSVR headset working in the first place! We can't quite believe this is $100 cheaper today, and given the amount of PSVR headsets sold around Black Friday, expect more devs to start pumping out VR titles.
View PlayStation VR deal: PSVR headset, GT Sport, PS4 camera $199 @ Amazon
Update: This offer seems to have sold out at Amazon as the price has shot back up. However, we've found the same deal for $199.99 at these retailers too: Kohls, Walmart and GameStop.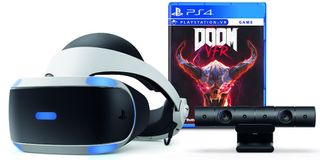 PlayStation VR | PS4 camera | Doom VFR | $299.99 @ Amazon
This PlayStation VR bundle has had a massive $100 knocked off too. You're probably wondering why it's still $100 more than the GT Sport bundle though? Well, the headset in this one is the brand new CUH – ZVR2 version with the in-ear headphones built into the headset rather than the cable. The cable itself is lighter than the original and the passthrough box can now display HDR images on your 4K TV, so you won't need to mess around with swapping HDMI cables when not using the VR headset. But are those improvements worth $100 to you when the headset itself is largely the same?
View PlayStation VR bundle: PSVR, camera, Doom VFR $299.99View Deal
PlayStation VR | PS4 camera | Skyrim VR | 2 Move controllers | $349 @ Amazon
This PSVR bundle comes with everything you need for the full on VR experience with the headset, camera and two PlayStation move motion controllers. You can then get stuck in with those controllers to enjoy Skyrim VR the way it was intended. This bundle's more expensive than the two above because of the extra controllers and this is also the newer CUH – ZVR2 version of the PSVR headset as described in the deal above.
View PlayStation VR bundle: PSVR, camera, 2 Move controllers, Skyrim VR $349 @ Amazon
Also available at: GameStop
PS4 Pro bundle deals
Limited Edition PS4 Pro | Star Wars: Battlefront II | $399 @ Amazon
It's not the best looking limited edition console we've ever seen if we're honest, but if you're after a PS4 Pro and the very good-looking Star Wars: Battlefront II then this bundle is $399 today. The $50 reduction brings it back to the Black Friday price.
View PS4 Pro deal: Limited Edition PS4 Pro, Battlefront II $399 @ Amazon
Update: GameStop has the same deal going, plus a copy of FIFA 18 forthe same price.
PS4 Pro | Star Wars: Battlefront II | $349.99 @ GameStop
If you're not bothered about the limited edition console as seen above, then this option will save you a further $50 on a new PS4 Pro with a copy of Star: Wars: Battlefront.
View PS4 Pro bundle: PS4 Pro, Star Wars: Battlefront II $349.99 @ GameStop
View Deal
White PS4 Pro with Destiny 2 | $399.99 @ GameStop
The new white PS4 Pro is only available as a Destiny 2 bundle for now. Not that we're complaining, especially seeing as a regular PS4 Pro is usually around $400 on its own and Destiny 2 is around $60. Plus this edition comes with the Destiny 2 expansion pass. Sony knocking $50 makes this the best price yet and the perfect time to buy if you want a PS4 Pro this year.
View PS4 Pro deal: White PS4 Pro with Destiny 2 $399.99 @ GameStopView Deal
PS4 Pro | $349 @ Amazon
It's great to see Sony discount the PS4 Pro on its own too, offering the same $50 saving. So if you don't need any extra games this is the best PS4 Pro deal around. For gamers simply looking to upgrade from a standard PS4, this could be the best option.
View PS4 Pro deal: PS4 Pro $349 @ AmazonView Deal
Published at Mon, 11 Dec 2017 10:24:46 +0000